Maddie Diamond
Social and environmental activist, Executive Officer of SEE-Change, Founder of Trash Gather
"While I don't consider myself an artist or super creative person, I definitely incorporate creativity into my work. I am always seeking new ways of doing things, and wanting to set up new projects. This requires a certain kind of creativity… Particularly in imagining sustainable solutions for the future!"
Full bio
Maddie Diamond is a 23 year old social and environmental activist. She grew up in country New South Wales and now lives in Canberra. Maddie was awarded 2020 ACT Young Australian of the Year for her community leadership in sustainability.
She is the (youngest ever) Executive Officer of SEE-Change, a local grassroots organisation bringing people together to create sustainable change in Canberra. Maddie has brought with her a focus and passion for engaging young people in sustainability and environmental issues, and building their capacity to become changemakers. In 2020, SEE-Change will host the first Future Film Festival, a film competition and festival geared at youth to make films on climate change and sustainable practices.
She is also the founder of Trash Gather, a youth-led volunteer group that aims to clean up our environment while fostering community connection. They meet once a month to clean up rubbish in a new location around Canberra.
Maddie has just completed a Diploma of Sustainable Practice at TAFE NSW.
Dive into this selection of images and stories about her work.
Trash Gather and its BRAND NEW Rubbish Rangers
Trash Gather groups meet once a month to clean up rubbish in a new location around Canberra. Since 2017, Maddie says they have cleaned up dozens of locations, engaged hundreds of people and collected thousands of bags of rubbish!
"We've collaborated with many other community groups and gained regular media attention from several local media outlets. Trash Gather has also been recognised with an award and grant from Youth InterACT, and a donation from the ACT Chief Minister, Andrew Barr."
Trash Gather is excited to announce a new youth education program, Rubbish Rangers! Rubbish Rangers is a fun, hands-on program for Canberra students, empowering them to become environmental leaders, or 'rubbish rangers' in their communities! The program deep-dives into a systems-view of waste, rather than just how best to deal with it at the end of the line. Find out more on the Trash Gather website.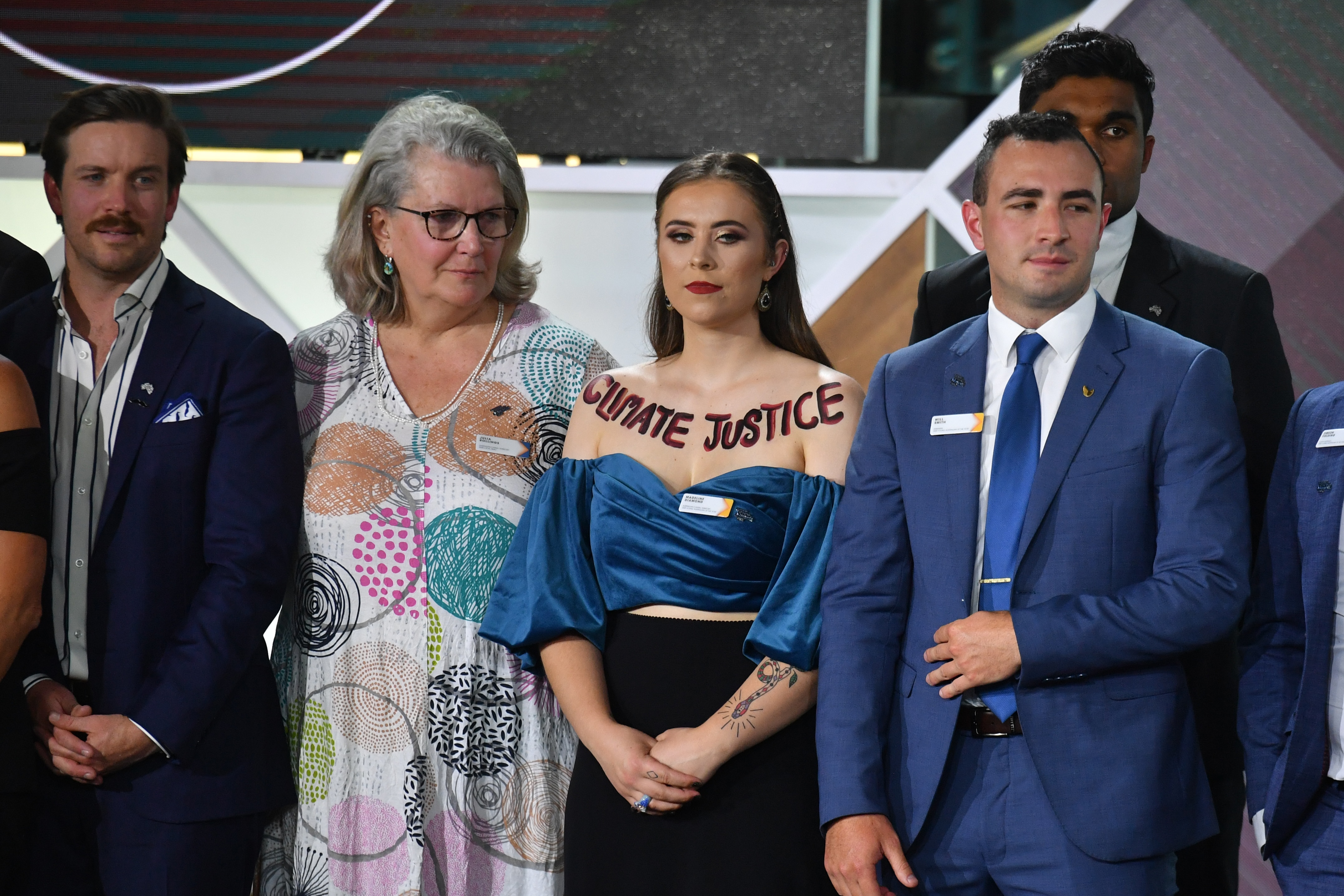 Young Australian of the Year finalist Madeline Diamond used the awards ceremony to make a political statement, painting "climate justice" on her body. 
From the SBS News Article: 'Climate justice': Young Australian of the Year finalist makes bold statement
The words were clearly visible as Ms Diamond, 22, stood on stage alongside other finalists for the announcement of the winner at the Canberra awards night.
The 22-year-old won the ACT's nomination for promoting sustainability and said she wanted to make the most of the national platform.
…
While Ms Diamond acknowledged some Australians may not think it was the appropriate time to make a political statement, she hoped the addition to her outfit would get people talking. 
"At the end of the day climate change is dangerous and to not act on climate change is an injustice."  
"What drives me is what I think should drive everyone. And that's the environmental crisis that we're in and climate change is an issue for all of us. It's going to affect everyone of us in the room and all over the world, so that's my reason."
"Just start anywhere. The thing you're most passionate about, start there…. there's something all of us can do whether that's big or small, so I urge everyone to take your part in this movement."
How does science, technology, engineering, maths and art interplay in your life?
"Science – Science informs my advocacy around climate change and sustainability. I am a staunch advocate of listening to the science when it comes to climate action.
Technology – As a 23 year old, I've pretty much been raised on a computer. That kind of digital technology has shaped how I work and communicate.
Engineering – I don't work very closely with engineers or engineering, but I wonder if I might do so in the future, depending on what path I choose to take in sustainability…
Maths – The source of a lot of stress in school!
Art – Art and creativity is extremely important when it comes to communicating climate change, and engaging our community with the issue."
Do you have any creative hobbies?
"Although I'm not amazing at either, I love to draw and paint. For me they are tools for mindfulness and self expression, rather than creating something worth looking at. I also enjoy building and sewing things. I'm currently converting a 12 seater bus into a campervan from scratch!"
Find out more about Maddie Diamond and her work
Canberra Women of Science and art